Product Model: X2OPC-Softkey, X2OPC-USBkey
Application Domain:
Sunfull's OPC server solute the question that Citect, IFIX, RSVIEW, WINCC, KingView, Inspec and other configuration software cannot connect to some unusual control devices. Bring your own WEB server to enable the IPAD and smart phone to access the site's devices through WEB browser, monitor the running state of the device, etc.
Runtime environment:
OS:Windows XP/ 2000/2003/2003 /Win 7/Win8/Win10/Win Server 2003/Win Server2008/Win Vista etc.
Browser: IE9(and above) 、Safari、Google Chrome、firefox、Opera etc.
Software Features:
-Green and free installation, supporting Chinese and English;
-Support nearly 200 protocols simultaneously to OPC server;
-Support WEB browsing, viewing, setting, monitoring and control;
-Support OPC DA1.0,2.0 and OPC xml-da;
-The points are authorized according to customer requirements;
-The configuration software X2OPC is convenient for configuration ,1024 points can be completed in 20m;
-Add a new private protocol to support Modbus, which can be completed within 2 weeks;
Application Principle Diagram: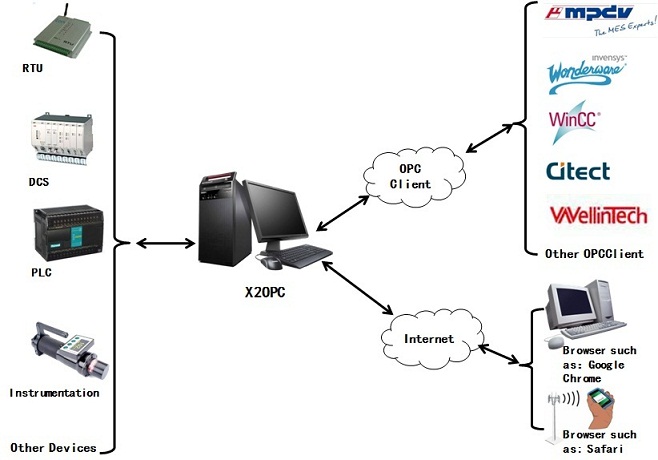 If you need to develop a non-standard protocol , please contact us.
If it is best to express the device to our company, the development cycle is usually 2 weeks.
Tel: +86-021-58776098